Report: Exploratory mission in South Africa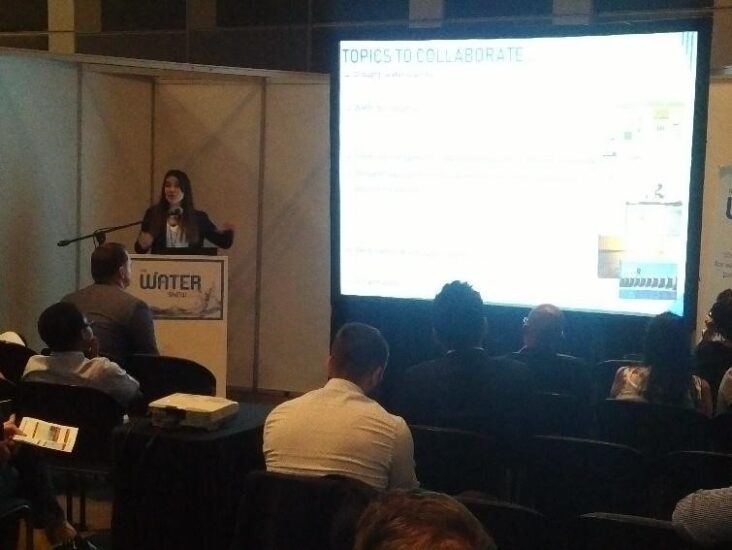 The exploratory visit was conducted from 26th and 28th of March, during the celebration of the WATER SHOW AFRICA. The Water Show is a unique conference and marketplace where water CEOs, government officials, senior executives and engineers attend to explore solutions for developing investable and sustainable world class water projects throughout the African continent.
The exploratory visit was lead by the CWP – Catalan Water Partnership and there was also the participation of a member of the CWP, the SME Keiken Engineering, interested on SENTINEL project.
Sara Gabarrón, project manager at , took part to a structured business program, to meet key players such as, hospitality associations, hotel chains, government and research and innovation institutions, to develop potential collaborations and cooperation opportunities with different stakeholders from South Africa.
A part from the meetings and visiting the fair, the CWP was invited as a speaker at the Water Show Conference in order to present some examples of the projects being conducted or promoted by the CWP. Taking this opportunity, the SENTINEL project was introduced to the audience during the CWP's presentation.
Not only the Water Show Africa 2019 was celebrated but also the Solar Show (Power and Electricity). The CWP visited both exhibitions and exchanges information with several representatives from both fairs.
The goal is to expand the markets for the companies associated to the Sentinel clusters and validation of the markets.
Companies interested in specific activities in South Africa could contact us at info@cosmesentinel.eu.
Dissemination of water sustainable measures at the touristic sector
Water resource availability is essential for the hospitality sector development. In this sense, water must be sustainably used and managed and several actions to reduce its consumption and management should be conducted.
For this reason, it is very important to carry out awareness and dissemination campaigns for all audiences, either through explanatory panels, videos, talks, workshops or excursions to experience the effects caused by the lack of water by first hand.
In addition, to spread good practices for proper use is also interesting to teach ways of reusing water. As an example, several information boards are shown at the most touristic attractions of South Africa. These panels remain the correct behavior or practices to reduce, for example, the water consumption of the tourists or explain some examples of initiatives that being conducted to reduce the water consumption, to improve waste management or to save more energy.
Some examples of these information boards are shown below: